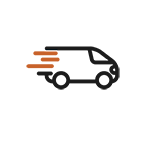 Shipping rates are calculated based on order size and destination. Orders must be placed by 5 PM ET to start processing on the same day. Processing time usually takes 1 business day and orders will arrive within 5-7 business days from when the order is processed. Expedited shipping is available for extra cost at checkout.
When an order is sent out from SENTINEL, it is the responsibility of the carrier to make sure it arrives to the customer. Once delivery is confirmed by the carrier, if the customer does not receive the package because it is lost or stolen, we recommend contacting the carrier for compensation. Once resolved, a new order can be placed. It is important to choose a delivery address that is a trusted and secure location, due to the increasing rate of package theft.
When your order is ready to be shipped, you will receive a shipment confirmation e-mail. The majority of our orders are shipped within 1-2 business days after the order has been placed. The email will contain shipment details, your tracking number, and a link to the selected carrier site. To track your order log in to MY ACCOUNT and sign in to access your recent orders.
If you are not completely satisfied with your SENTINEL purchase for any reason, we will refund your money within your first 30 days. Please keep the product and give us a call or send an email to info@sentinel.com with the following information so we can process your request.
Information to Email:
1. Full Name
2. Order Number
3. Date of Order
4. Reason for Refund Request
5. If you were not satisfied with the product, can you tell us why?
It takes up to two weeks to process returns and credit your account. We will notify you via email once your return has been processed. Please note that your financial institution may take longer to reflect the transaction. If you have any questions about your return, please contact Customer Service.